We are not alone ! Over 10,000 members of the public supported the Campaign for a new hospital recently in a parliament petition. Since then support has gone from strength to strength with a variety of meetings run by several different organisations all with the same aim. To ensure that the right decisions are taken for the right reasons. 
Who are our supporters  ?
Here's a sample of our supporters. If your organisation isn't listed, let us know.
Organisations who support what we stand for
Chorleywood Residents Association Website Facebook
The Campaign for a new Hospital Website
Dacorum Hospital Action Group Website
Dacorum Patients Group Website
Members of parliament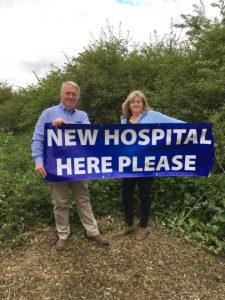 Anne Main MP for St Albans 24,571 votes in 2017 General Election  http://www.annemain.com/
Mike Penning MP for Hemel Hempstead 28,735 votes in 2017 general election   http://www.mikepenning.com/
Local politicians
Paul de Hoest Party: Green candidate in 2017 general election for Herts West 1,576 votes Website
Mandy Tattershall Labour candidate in 2017 general election 19,290 votes Website
Government organisations
Dacorum Borough Council Website
Local councillors
Adrian England Dacorum Borough Council  Party: Liberal Democrats Ward: Adeyfield West
John Birnie Dacorum Borough Council  Party: Conservative Ward: Bennetts End
Mike Hicks Dacorum Borough Council  Party: Conservative Ward: Tring West and Rural
Isy Imarni  Dacorum Borough Council  Party: Conservative Ward: Gadebridge
People & Organisations who we are talking to to get support
William Wyatt Lowe Dacorum Borough Council +  Hertfordshire County Council
Collette Wyatt Lowe Dacorum Borough Council +  Hertfordshire County Council
Jan Maddern Dacorum Borough Council
Sally Symmington  candidate for Hemel Hempstead in 2017 general election
David Gauke MP for  South West Hertfordshire 35,128 votes in  the 2017 General Election  http://www.davidgauke.com/
Hertfordshire Association of Parish and Town Councils http://www.haptc.org.uk/