Think of a Herts. Valleys Hospital
West Herts Patients & Residents, you deserve the best…
Centrally located and more accessible
World class patient care and experience
Delivered complete by 2025
Cost effective and highly efficient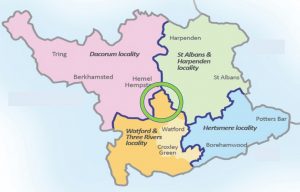 With your support we really can deliver a world class NHS hospital in West Hertfordshire by 2025. Our confidence is based on the Herts Valleys Hospital proposal being so much better than the current plans, in every respect.
Just to be clear, that means so much better for patients, carers, hospital staff, community healthcare, NHS, the Government and tax payers.
Herts Valleys Hospital Solution (HVH) is an organisation formed by a group of like-minded, passionate people from the community, who draw on industry experience and international best practice to bring a world class, flagship hospital to West Herts. The delivery of a 21st century hospital in central West Herts by 2025 is our sole purpose.
Our Patient-Flow Solution is better, faster, sustainable:
State of the art centrally-accessed diagnostics together with holistic patient-flow hospital design, to enhance patient care and experience
New compact, accessible central location with space for expansion, free car park and public transport hub
Fast track to completion by 2025, five years less than the current proposal of rebuilding the highly inefficient, legacy, Vicarage Road site by 2030
Community led vision and support with highly qualified contributors, working with the Department of Health's Future Strategy and the NHS West Herts Clinical Service Model
Reduced initial capital cost and lower operating costs due to
greatly increased efficiency.
With the right expertise, investment and new technology, applied to the patient-flow, whole-hospital design, HVH will not only meet the increased demand but enable a new level of care and patient experience to be consistently and sustainably delivered.
And there is more. The highly efficient new hospital with its lower operating costs will release limited NHS funds for increased healthcare in the community.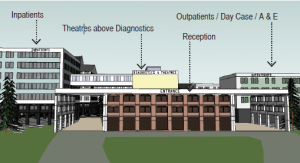 How You Can Help:
First and foremost we simply want you to put your name to our project. If you would like to do more we will be delighted to hear from you.
Gaining overwhelming public support is the vital first step in our six stage master plan. Subsequent stages, which all depend on first winning public support, are:
Commission the design for a 21st century hospital
Confirm the most suitable site in central West Herts
Formally present proposals to the Dept of Health
Assist in the final design and construction phase
Support the NHS management in implementation
We need your support!
HVH is offering the 630,000 residents of West Hertfordshire the unique opportunity to combine their individual voices to secure a world class NHS General Hospital for this region by 2025. It is a once-in-a-lifetime chance to get the hospital you deserve. Please make sure you grab this exceptional opportunity by adding your name and voice as a HvH supporter. You owe it to yourself, your family and future generations to back this community led project.
To make your support count please register here.
Thank you; registering your support is absolutely essential, but we welcome additional support in the following ways:
Encourage family, friends, neighbours and associates to follow your lead.
Volunteer to join / support our local campaign groups – there will be one in your
area.
We'll keep you posted on progress through this website and Facebook but please feel free to contact us  and request extra information.
Find out more about the problem 
Subscribe NOW to show your support