The Herts Valleys Clinical commissioning group (HVCCG) really is covering itself in glory these days. Yesterday they launched their "Healthier future #NHSletstalk" initiative. It's a joint exercise with the neighbouring authority in Essex to make  "to make best use of the money available to the local NHS, while helping as many people as possible to live healthier, longer lives and avoid preventable illnesses."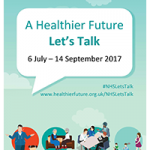 Which is a brilliant concept. Really it is. Read about it here
Trouble is, again they are telling us that this is a CONSULTATION. It's not. A consultation is where you are asked for your view on something and the other party thinks about it, discusses it with you, and then decides whether to continue with their initial idea, whether to modify it or not.
Information not consultation
What they're actually doing is providing you with INFORMATION about something that has already been decided. If you don't believe us, look at their own meeting agenda (page 14) and minutes of the meeting (page 17-18)  which states  "… we are proposing to embark on an engagement programme in a number of clinical areas and full consultation on IVF."
So for IVF they will listen and re-consider but for the rest, it's just an "engagement".
Without getting into the medical details, they are saying if you are obese, smoke, need special food, need the snip or sterilisation the decision has been taken. You won't get help when you go to your GP on the particular new issue you have. End of.
For example, if you are seriously overweight they will NOT perform  non-urgent surgery UNLESS a longer wait would be harmful. They will only do it IF you are under their set BMI limit.
Proactive help needed
We'd like to think that in a modern world people try to take responsibility for their own health, and that the NHS was there to support and help them. This includes taking your own action first and the NHS being there to support people BEFORE there is a problem. For example if you are obese, they would recommend or provide ways to get fit and lose weight.
For example by getting you some sessions at a local gym
For example advising you on what not to eat
This does happen in some parts of West Herts but it isn't available everywhere.
So reading about the changes and figuring out whether you'll be denied access to healthcare is the first thing to do. But don't for one minute think that taking their feedback survey is going to make ONE BIT OF DIFFERENCE don't. The decision has already been taken.
No consultation – again
The problem once again is that (with the exclusion of IVF) there will be NO public consultation – we will only be informed of a decision that has been taken. Just like the failure to put the options for the greenfield site in the SOC and just like the decision to close Nascot Lawn children's centre. No discussion with the public, no listening, just a decision taken without the correct consultation. This is NOT what the head of NHS Improvement Jim Mackey  told local NHS leaders only 2 weeks ago.
Cost cutting due to poor financial management
Lets be clear, this initiative is part of the Herts Valleys Clinical Commissioning group's financial turnaround plan. They have overspent, and have been told by the government to cut what they are spending. And so they should. But not by cutting corners and failing to do public consultation. Once again it's a short sighted view that passes the burden to future generations as opposed to doing things today – whether it be public consultation OR preventive healthcare.
Maybe the PR campaign should be re-named #NHSletstalkbutwerenotlistening