2 local MP's and our peer group in Dacorum, Campaign for a New Hospital were on the case recently to encourage the NHS to re-consider the recent decision to support West Herts Hospital Trust's Strategic Outline case.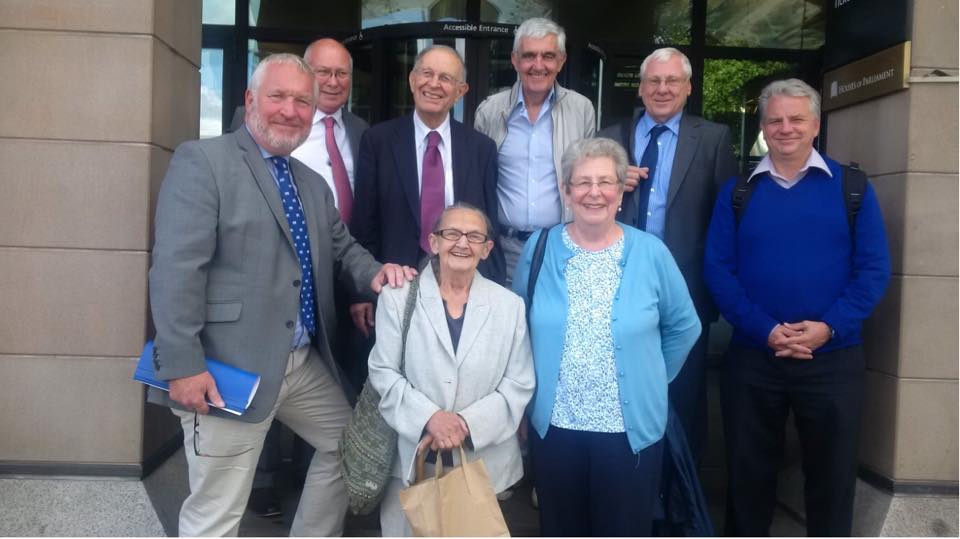 They met Jim Mackey, the current head of NHS Improvement in Westminster. Jim is responsible for ensuring that the organisations delivering services on behalf of the Clinical Commissioning groups are run properly. They manage the West Herts Hospital Trust.
His counterpart is Simon Stevens the head of NHS England.  Simon manages the Clinical Commissioning groups like Herts Valleys CCG.
Together they are 2 of the most powerful people in the country when it comes to running our NHS.
Well done to the campaign for a new hospital in getting the meeting. We hope it bears some fruit.
Following the meeting the Campaign for a new hospital group published the following media release via their Facebook page.
HOSPITAL CAMPAIGNERS MEET TOP NHS BOSSES
The New Hospital Campaign members with Mike Penning M.P. (left) and construction expert Robert Scott (second right) outside Portcullis House, part of the Parliamentary Estate in Westminster
Members of the New Hospital Campaign, which is pressing for a new hospital in a central location in west Hertfordshire, met top NHS regulators with Hemel Hempstead M.P. Mike Penning in Westminster last Thursday 17th August. Mike brought a letter of support from St. Albans M.P. Anne Main who was on holiday: a member of her staff, Ross Ewing, represented her at the meeting.
The group met the Chief Executive of NHS Improvement, Jim Mackey, together with two colleagues. Jim was previously Chief Executive of the Northumbria NHS Trust and in that role developed a groundbreaking local whole system approach including all aspects of health and social care based around a new central hospital which has been awarded 'outstanding' status by inspectors.
The group presented a mass of evidence relating to its concerns about the local NHS's plans to redevelop the current site in Vicarage Road Watford over a period of 13 years with all the risk and disruption that would involve. The Campaign's high-level construction expert Robert Scott demonstrated that this would be a far more costly and risky venture and would take much longer to complete than the alternative of building a new hospital, which would also give a far better result.
Mike Penning MP said "I was very pleased to be able to arrange the meeting with Jim Mackey of NHS Improvement. I have to say it was one of the most positive meetings we've had with the NHS for years. I think we all felt that he really listened to our case and was impressed at the detail and accuracy of our case".
Graham Cartmell, a member of the Campaign Steering Group, said "It was a really constructive, open exchange. We felt they took note of our point that knocking out the new hospital option at this stage can't be justified".